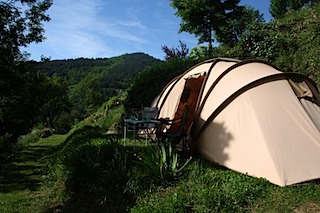 This wonderfully spacious tent is equipped with a sleeping compartment (anti musquito door as well as cotton door) with comfortable double air mattress.
The tent is equipped with a camp kitchen, chairs and a table.
(Camp-kitchen includes a 2 burner gas cooker, a small fridge, a watercontainer and washing bowl, a set of pots, pans and cooking utensils, camping crockery & cutlery.)
It is possibile to add a little Iglo-tent for one or two persons.
The sanitary block is at 25 m.
Wifi is available in the Mas.
☛images