affordable night stop-over in the gite d ' étape
for hikers, bikers and other summer guests.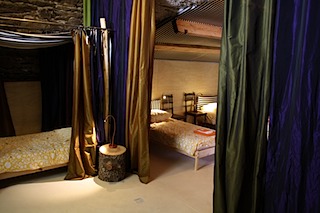 The gîte d'étape provides you with a affordable night stop-over in a unique setting. You can stay in autonomy but you can if you want opt for certain services (sheets service, a wonderful diner or breakfast at the 'table d'hôte'...
The very nice and cozy rooms are situated in "la Grange", "Le pigeonnier" and "La maison".
On arrival your bed/ room will be pointed out to you. We try to appoint rooms per family/ friends, but rooms may be completed with other guests. If privacy is very important to you, you may want to privatise a room. Also we have one and two persons rooms. Sanitary facilities, showers and WC are shared.

In the 'hikerslounge' with its beautiful cross vault, you'll find a small kitchen unit where you can relax, make a cup of tea or coffee or prepare your meal. Also at your disposal: a refrigerator, cooking utensils, crockery and cutlery. You may enjoy a meal inside, on the terrace under the grape vines, or join us for a wonderful meal at the table d'hôte. There are some hiking maps and other local and tourist information leaflets ready for consultation, or you may choose from the games and books available. WI-FI available in the Mas.
Fully regenerated after a good night's sleep you can continue your itinerary via the path that runs alongside the Mas wich joins up with the ' PR of the Vallée du Luech ', the ' GR 68 ' or any of the other hiking routes.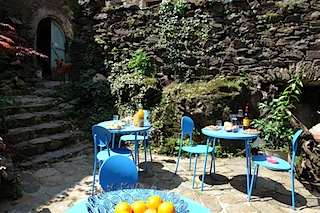 On reservation in advance: enjoy a nice and fresh breakfast served, order your picnic to take away or join us for a nice supper at the 'table d ' hôte'.
NB. You can enjoy your stay in this wonderfull stopover for a affordable fee only because you yourself participate in keeping the place nice and tidy during your stay. Needless to say you leave things tidy and in good order when you take off to continue your trip.
Note. No pets allowed except on agreement beforehand and only in specifique rooms (pigeonnier, chambre2).
☛images