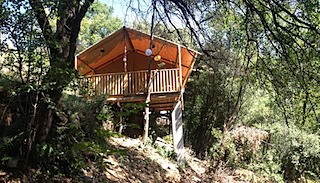 This spacious sturdy tent stands on its wooden platform under a beautiful old holm oak. A 'tree house' with a cosy living area; a sitting area, a dining area, and a fully fitted-out kitchen. The decoration is original and has a natural look.
Two bedrooms, one with a double bed and one room with two single beds. Stretcher bed for 5th person available. A shielded spacious terrace on the wooden deck in front of the tent completes this accomodation.
The kitchen includes a 4 burner gas cooker, a sink with watertank , refrigerator, pots, pans and cooking utensils, crockery and cutlery. Possibility to rent a gazheater in MS.
The sanitary block is centrally located (25m) and provides you with ,shower

, dry toilet washing ond dishwaching facillities.
Laundry: a washing machine is – on payment – at your disposal in the 'launderette' in the Mas
.
Wi-Fi connection available in the courtyart of the Mas